Recurring Testing
In order to ensure safe and reliable operation of operating equipment, components thereof have to be waited and tested. Safety valves regularly have to be inspected for functionality. Spring-loaded valves can be equipped with either pneumatic, hydraulic or electro-pneumatic sub controls. Even safety valves with sub controls have to be tested once a year. 
We conduct these recurring tests online without interrupting the operation of the system. The tests help to precisely determine the response pressure as well as other performance characteristics of spring-loaded safety valves. 
Mobile Testing 
Our computer-based mobil testing system is up-to-date. It can be used for safety valves of all makes and is certified by the German TÜV.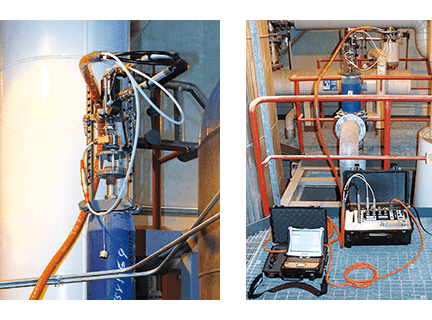 Features and Benefits:
Testing can be conducted during operation (no stoppage)
Minimal loss of the operating medium during the test
Determination of cracking pressure, closing pressure and spring characteristics
Increased system availability
Testing of the response-pressure in the unpressurised condition
Reduction of maintenance costs
Determination of all relevant valve data
Test results and documentation can be issued on site in the presence of the TÜV or any other body of inspection
Graphic representation of all test results

Additional Features of Regulated Valves
Testing of the cracking and closing pressure (pressure switch test)
Testing of the available forces for the actuator
To get started, contact us at via info@aasgmbh.de or (+49) 281 206980-0
Here you can download our flyer on the Safety Valve Test 4.0